Colin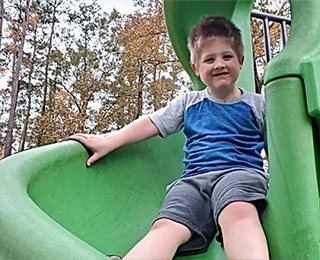 Colin was born in April 2015 at 29.5 weeks, 10.5 weeks early. He is currently 5 years old. He spent 2.5 months in the NICU, which was extremely difficult for his father and I.

Colin started Early Steps at 6 months old, and it was during this time that his therapists and I noticed some characteristics not completely explained by prematurity: not talking, limited eye contact and delayed motor skills to name a few.
​
At 2 years old, Colin was referred for an Autism screening. A week after his 2nd birthday, we received the most difficult news of our lives: Colin was diagnosed with Level 3 (Severe) Autism Spectrum Disorder with Speech Impairment (Non-verbal) and Global Developmental Delay. We immediately enrolled Colin in ABA (Applied Behavior Analysis) Therapy, which is considered the best Autism therapy. We educated ourselves about Autism and did everything to ensure that we were doing the absolute best for Colin.
​
Around Colin's 1st birthday we started noticing some body jerks and twitches. We consulted a neurologist who just wanted to monitor them. In July 2018, at 3 years old, Colin was referred to Children's Hospital for an EEG and MRI since the jerks/twitches had not subsided. Shortly after, he was diagnosed with Myoclonic Encephalopathy. This means he has recurrent seizures/jerks, abnormal brain function, and intellectual disability. Also, at this time, we were under the care of a pediatric geneticist and underwent genetic testing to see if there was an explanation for Colin's medical diagnoses.
​
In October 2018, the genetic results came back, and we were in complete shock: Colin had an extremely rare genetic disorder. Colin's neurologist said he was the 41st in the world diagnosed with it. The genetic disorder has no official name. It's called a CHD2- Related Disorder. We discovered that this was a de novo (not inherited) genetic mutation on the gene CHD2. This mutation happened at conception when the DNA strands were duplicating. About 20 people with a CHD2-related disorder had been studied at the time of Colin's diagnosis. The common characteristics: myoclonic seizures/jerks, significant speech delay, including nonverbal, developmental delay, mild to severe intellectual delay, Autism, ADHD, and aggressiveness. At this point, everything made sense. Every diagnosis and characteristic were explained. That was a day that we will never forget.
​
Throughout his short life, Colin has faced a plethora of difficulties including the inability to speak, delayed cognitive and motor functioning, and aggressive meltdowns. This presents a challenge in our everyday lives as careful planning is necessary in order to help Colin function in a world that doesn't make sense to him. He is a BRAVE little boy, and, despite the challenges, he makes progress daily. He has come so far in all areas of his life including, speech, behavior, academic/cognitive functioning, and motor planning/functioning, and he has done this all with a smile on his face. What may seem like tiny milestones to some, are HUGE celebrations to his father and me. We literally celebrate every little bit of progress. His father and I are extremely hopeful for a cure for CHD2 so that Colin is able to function better in a world that isn't made for him.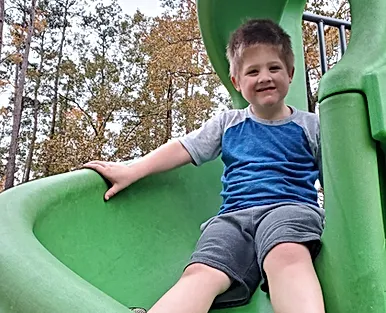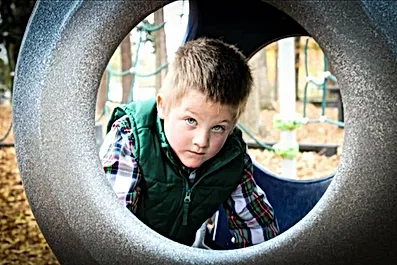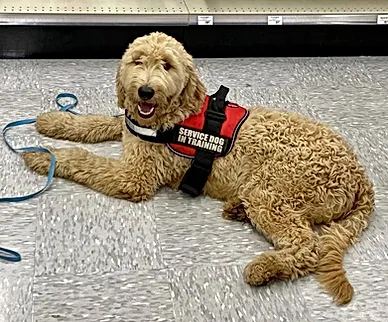 Click for Enlarge